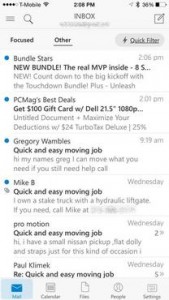 January 31, 2015 by Paul Greenberg
I just downloaded and played with Outlook for iOS. I know Microsoft has promised to continue iterating quickly, but in my opinion right now the app is just too crippled to replace the native iOS mail and calendar apps. (Also, there is apparently a huge security flaw in it.) From a usability point of view, here are my problems:
Calendar
Only updates/syncs once per hour for changes made from other clients, so not real-time sync.
Doesn't show the location of meeting on calendar – you have to click on the appointment.
No visual line dividers on calendars between meetings, only hourly, i.e., if you have a meeting at 12 and then another at 12:30, there is no visual divide between the meetings — they just run together.
Doesn't automatically take you to the current time of day when you go back to "today" from another day.
Takes two taps to get to the calendar if you're not in the app as opposed to one if using the native (and separate) calendar app.
Calendar animations jerkier than the native iOS app.
Doesn't support shared calendars for Exchange (not important to me, but still weird).
Takes several taps to get to a non-threaded conversation (which drives me crazy — I find it much easier to see individual emails) and no option to change.  (EDIT: They changed this in the recent update.)
No option to hide previews in inbox so it takes up more space than if you just have sender + subject.
No number indicators about how many unread messages are in each account when viewing account list (using menu on left). For example, if I'm in my personal account and I want to quickly see how many unread messages are in my work account, I have to go into my work account inbox — I can't just see a number next to the account name, which iOS app shows you.
Can't default to showing details of header, so you can't always see all recipients without an additional tap.
Only shows one month of mail.
No way to remove quick filter and save the space in the inbox.
Doesn't sync drafts.
Search much slower than native iOS app.
Nitpick: Subject lines bolded, not names — I find it easier and cleaner if it's the opposite like in native iOS app.
Doesn't pull whole address book, just those with whom you've interacted in the last month.
Hopefully Microsoft will improve it because I want to like it, but for now, unfortunately, it's too problematic.