About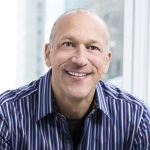 I'm an experienced video, content, and technology leader, a three-time CEO, President, and General Manager. I'm CEO of Butter Works, a digital video firm that works with companies and brands to provide comprehensive partnership in creating, distributing, and monetizing digital and social video. Recently, as EVP/GM at A+E Networks, I oversaw the creation of the #1 show on Facebook, the #2 show on Snapchat, multiple hit shows on YouTube, and many successful branded content advertising campaigns, while growing A+E's digital video audience by hundreds of millions of views. I also ran FYI, one of A+E's cable networks. As CEO of CollegeHumor, we grew traffic by billions of views to make the company the #7 YouTube channel while tripling revenue, and as CEO of Nylon, we grew revenue 150% and digital audience 15x year-over-year.

Prior, I was President, Digital, of Time Inc.'s lifestyle brands; President of SFX; EVP/GM of TV Guide Digital; and Vice President of Business Operations at MTV.com. I began my career as a sports announcer on 1010 WINS in NYC (my LinkedIn profile).

Contact me at: paul [at] paulgreenberg [dot] com.