Can TV Afford to Have Twitter Fail?
Twitter was down for almost a full hour this morning, the third time in as many weeks that that's happened. This is still an all-too-familiar icon: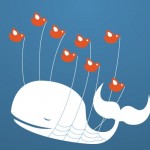 Every time Twitter fails these days, it becomes increasingly more dire for those of us who rely on it as a newsfeed and communication mechanism. That's frustrating for individual users.
However, that's nothing compared to the concern of the many media companies who have millions of dollars riding on Twitter's ecosystem every day. This Sunday, that money will grow exponentially. More than half of the spots shown on TV during the Super Bowl will carry a Twitter hashtag as companies bet on users and Twitter to complete the virtuous circle of product interaction.
In fact, on a more general note, Nielsen recently said that one-third of people tweet about the TV show they're watching. That percentage is only going to grow, and it will grow quickly.
This is no mere social network; Twitter has become a critical piece of the country's vast media infrastructure, and when it goes down, it can take TV networks and their viewers down with it. Obviously Twitter has done a lot over the past year to shore up its servers, but so many companies are now dependent on it that true stability can't come soon enough. For now, "social TV" is Twitter, but if it continues to stumble, there are competitors looming who would love to — and could — take its mantle. Here's hoping the fail whale is permanently banished quickly.